Panasonic Telephone Systems
Although more businesses are starting to take notice of hosted telephone systems installing a traditional Panasonic system with physical "onsite" equipment is still by far the most popular and reliable choice as it utilises tried and tested equipment that sits within your building to handle your incoming and outbound call traffic.
The NS700 system from Panasonic is a high quality, cost effective traditional small business telephone system that can be installed into your premises at a price not matched by any other system or even hosted VoIP solution boasting the same number of features and its world class reliability.
The NS700 offers a wide range of features making it much easier to do everyday tasks within the workplace.  It can handle voicemail, auto attendant, call logging, call recording and remote home working with ease.
KEY FEATURES:
Start small grow large
Panasonic NS700 telephone systems can be configured with as little as 2 handsets but is able to grow to accomadate up to 1000 extensions.
Types of telephone lines
NS700 systems are complete hybrid systems that can play host to Analogue, ISDN 2e, ISDN 30e and SIP telephone lines.  The system can also be configured to combine traditional and SIP telephone lines giving you complete control of your telephony.
Multiple offices and homeworkers
With the NS700 you can a start with a simple "single office" but at a later date the system can be configured to link other offices and remote home workers back to your main location.  All of your remote users can also make or receive calls from the telephone lines installed at your head office so there is never any need for multiple line installations which of course can save your business a fortune in telephone bills.
Massive choice of handset models
Panasonic NS700 installations can combine Analogue, Digital, IP and Cordless DECT Telephones which means it suits literally any type of business environment.  The NS700 is also compatible with a number of high quality Panasonic handsets that can be selected based on budget or required use.
Let us do the hard work
RK Communications will fully install, configure and program your Panasonic NS700 to your specific requirements. We will also train your staff and provide both on site and telephone support when it is needed. You can now let our staff worry about the tedious tasks involved with telephones whilst your employees get on with what they are paid to do !
Please call our office on 01 429 5040 for a no hassle quotation or email your request to sales@rkcomms.ie
KX-NT560
Executive IP phone
4.4″ LCD display with backlighting
32 (8×4) freely programmable function keys
High-quality wideband voice transmission
Integrated Bluetooth®
2x 1Gb Ethernet ports
Power-over-Ethernet (PoE)
Eco Mode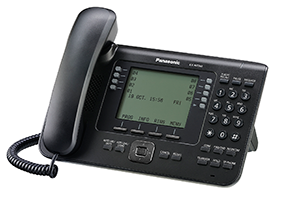 KX-NT556/KX-NT553
Executive IP phone
6-line backlit LCD display (3 lines for KX-NT553)
36 (12×3) KX-NT556/24 (12×2) KX-NT553 self-labelling, flexible CO buttons
2x 1Gb Ethernet ports
Power-over-Ethernet (PoE)
Eco Mode
Available in black or white
KX-NT546/KX-NT543
Standard IP phone
6-line display with backlighting (3 lines for KX-NT543)
24 freely programmable function keys
High-quality wideband voice transmission
Plantronics wireless headset Electronic Hook Switch (EHS)-compatible
2x 100Mb Ethernet ports
Power-over-Ethernet (PoE)
Eco Mode
Available in black or white
KX-NT551
Standard IP phone
1-line backlit LCD display
8 flexible CO buttons
2x 1Gb Ethernet ports
Power-over-Ethernet (PoE)
Eco Mode
Available in black or white
KX-DT546/KX-DT543
Premium digital proprietary telephone
6-line backlit LCD display (3 lines for KX-DT543)
24 freely programmable function keys
Electronic Hook Switch (EHS)
Speaker phone, handset and headset with full duplex
Available in black or white
KX-DT521
Standard digital proprietary telephone
1-line graphical LCD with backlighting
8 freely programmable function keys
Speaker phone, handset and headset with full duplex
Available in black or white
KX-TCA185
Professional DECT handset for efficient performance
1.8″ colour LCD
Noise reduction
DECT paging
Vibration
KX-TCA285
Slim and light DECT handset for highly active environments
1.8″ colour LCD
Noise reduction
DECT paging
Vibration
Built-in Bluetooth®
KX-TCA385
Tough and durable DECT handset for every environment
1.8″ colour LCD
IP65 compliant dust protection and splash resistance
Noise reduction
DECT paging
Vibration
Built-in Bluetooth®